By
Art Spander
, —–
PINEHURST, N.C. — He's tied for second in the biggest tournament of the year, American's national championship, the U.S. Open. Erik Compton, who probably shouldn't even be playing golf, or anything else, is ahead of Henrik Stenson, Jordan Spieth and Rory McIlroy.
Ahead of people blessed with the heart with which they were born.
Compton has not been that fortunate.
He has received a heart transplant. Twice.
"It's unheard of for a patient to be playing sports on a national level like this," the man who performed the second transplant, Dr. Si Pham, told Cameron Morfit of GOLF Magazine.
Compton was on the operating table for 12 hours in May 2008. That was for the second heart, the third if you include the one nature gave him.
The first transplant was in 1992 when Erik was 12 and diagnosed with viral cardiomyopathy, a condition where the heart muscle is inflamed and unable to pump properly. But that heart began to fail when he was fishing alone in 2007 near his home in Miami.
According to John Romano of the Tampa Bay Times, "Compton understood what was happening and began driving to a hospital. Along the way, he called his mother and father. Not to alert them but to say goodbye."
"He walked in and collapsed in the emergency room," his father, Peter, told Romano during the 2010 U.S. Open at Pebble Beach.
Compton missed the cut in that one. "You got to give me a break," he told NBC shortly after finishing Saturday's third round at Pinehurst. "I just had a new heart when I was at Pebble Beach."
A heart he had for two years, which could be considered new.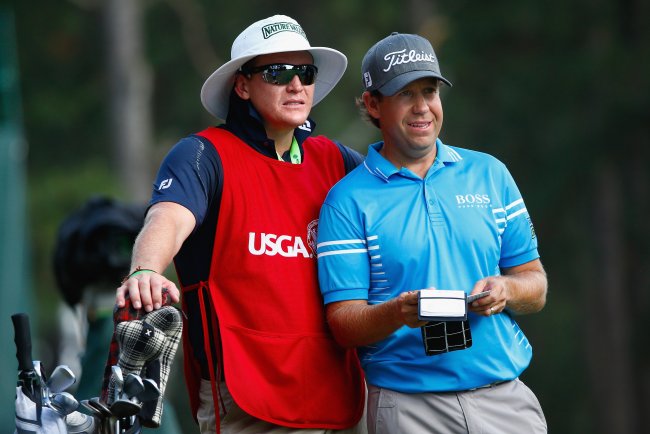 Sam Greenwood/Getty Images
Compton, 34, shot a three-under-par 67 Saturday. He shares second at three under par with Rickie Fowler. They are a distant five shots behind Martin Kaymer, but at the beginning of the round, they were 10 back.
"I think my attitude suits a U.S. Open-style course," Compton said about his third round, "because I never give up."
That virtually goes without saying. Here's a guy who has defied everyone's thoughts about his being. He takes 15 pills in the morning and 15 in the evening to prevent rejection of his heart. He shrugs off the trivial stuff, like bogeys.
"I'm extremely hard on myself," conceded Compton, "but I tend to forget the shots I hit bad and move on to the next hole…I guess that's kind of reflective on how I've always lived my life."
As many others, Compton has his own website. Unlike many others, his has a laudatory quote from Tiger Woods.
"It's an unbelievable story," Woods said about Compton at last year's Farmers Insurance Open. "The attitude that it takes to go through something like that, I don't think any of us could possibly understand it. There are very few people who have had organ transplants and who have survived and had great lives. They understand it. But to do what he's doing out here and being a professional and work his way to this level is just remarkable."
Compton, a husband and father, speaks at various hospitals, but this week, he's concentrating only on golf.
"I've really been under the radar and trying to focus on golf," he said. "I'm here because I'm playing well."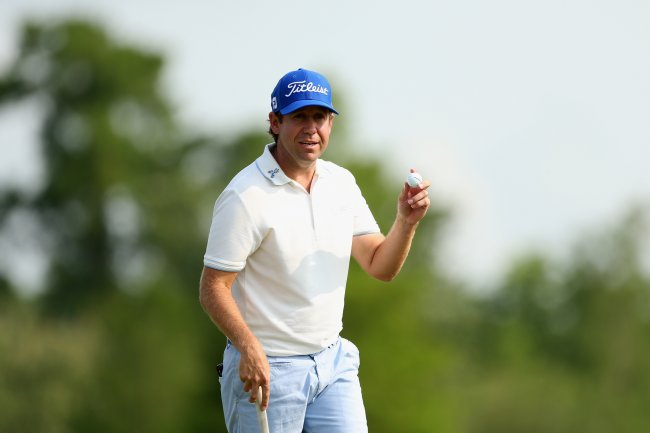 Chris Graythen/Getty Images
His energy level falls and climbs with "no rhyme or reason." He felt better Saturday than Friday, which is encouraging.
"I have nothing to lose," Compton pointed out. "Nobody expects me to do anything."
That's not quite true. Now that Compton has played his way high on the leaderboard in only his second major championship, we expect him to show us the talent and courage that won tournaments on the Canadian Tour and various awards, including the Ben Hogan Award from the Golf Writers Association of America, given to an individual for overcoming a physical handicap or serious illness.
Jack Nicklaus has offered advice to Compton. Chi Chi Rodriguez had given him advice as well.
"There's different characters in the game I feel like I've gained strength from," Compton said, "and it's nice to have the greats of the game take an interest in me because of my story. They know that people's backgrounds and life stories are more important than just golf."
Still, it's the golf that has brought him recognition. He's a battler, a champion.
"I think it's a function of my makeup," he said of his determination to do what others doubted he could do. "I told everybody I would be a Major League Baseball player at age eight. And I was serious about it. Even when I got wheeled out of the operating room—and they have it on camera—I said I would still be a professional baseball player. My parents have done a great job of pushing me to be a normal child. Sports was something I lived for. I made that a focus."
It turned out Compton is anything but normal. As Woods said, he's remarkable.
Share